TLDR
DigiFinex, a leading global cryptocurrency exchange platform, offers a wide range of services. You can buy crypto, trade derivatives, and enjoy fiat-to-crypto pairs. With tools like perpetual swaps, DigiFinex makes derivative trading easy. The platform's user-friendly interface, strong customer support, and ample digital assets make it a top pick for traders. DigiFinex is owned and operated from its Singapore headquarters. Whether it's spot or margin trading, Our DigiFinex review has you covered. For an easy, secure, and versatile crypto trading experience, our DigiFinex exchange review suggests it's worth considering this platform.
DigiFinex: An Overview of the Exchange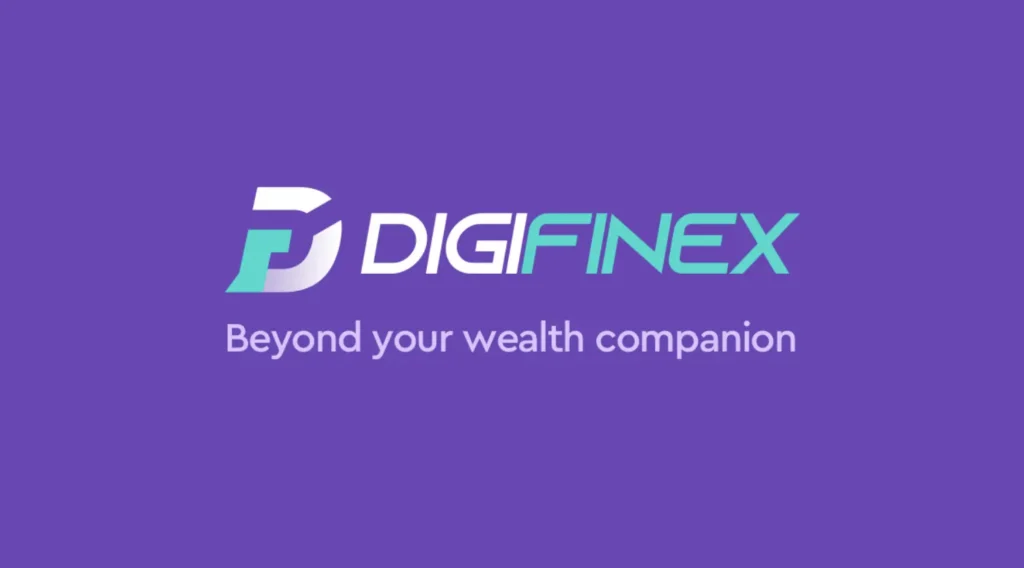 Introduction to DigiFinex
DigiFinex is a cryptocurrency exchange based in Singapore that allows its users to engage in a wide range of trading activities. The platform supports various crypto assets and offers a variety of trading pairs. DigiFinex, owned by DigiFinex Limited, provides a robust ecosystem where traders can buy, sell, and trade digital assets. The platform extends its services to a global audience and is especially popular among crypto enthusiasts in Korea.
Whether you're a beginner or an experienced trader, the DigiFinex mobile trading app, available in the app store, makes the process smooth. After creating an account with DigiFinex, users can deposit funds into the DigiFinex wallet, ready to start trading.
Why Choose DigiFinex in 2023?
In 2023, DigiFinex stands out for several reasons. Firstly, the exchange offers a broad spectrum of services, including spot and margin trading, allowing users to leverage up to 3x their deposits. The platform also supports the trading of native exchange tokens, which adds another layer to your trading strategies.
Moreover, DigiFinex allows payments using credit cards, which many exchanges don't. DigiFinex offers a competitive spread fees structure, enabling traders to maximize their potential returns. Furthermore, the daily withdrawal limit is reasonable, ensuring traders fully control their assets.
DigiFinex's Reach: From BTC to ETH and Beyond
DigiFinex is a cryptocurrency trading platform that not only allows trading between popular cryptocurrencies like Bitcoin (BTC) and Ethereum (ETH), but it also supports a complete list of other trading pairs. The diversity of options on this platform enables users to expand their portfolios beyond the common assets.
What's more, DigiFinex also provides digital payment token services in Singapore, thus opening up additional opportunities for traders. The platform ensures the security of its users' assets by using advanced security measures, making DigiFinex a trustworthy platform for crypto trading in 2023.
Registration Process on DigiFinex
How to Register on DigiFinex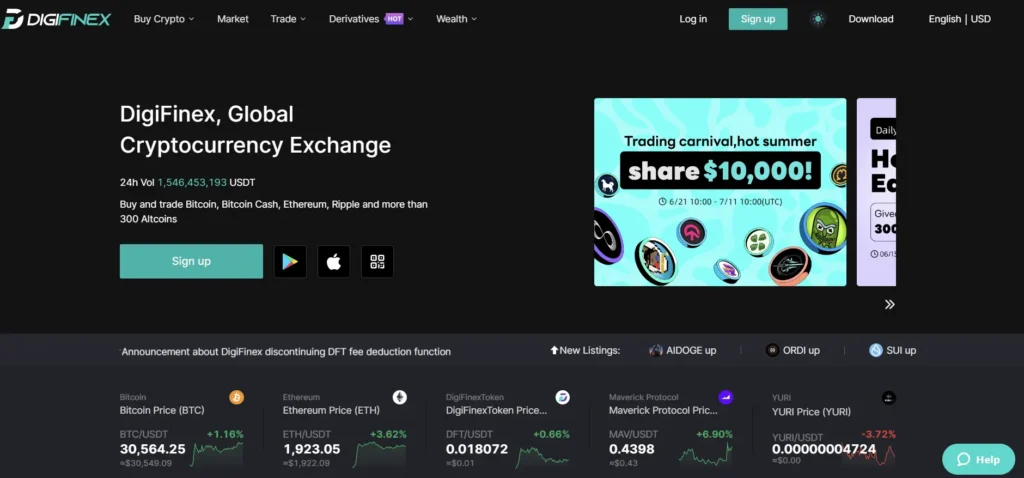 Joining the DigiFinex ecosystem is straightforward. Users can download the app, available on both Android and iOS platforms, or visit the official website to start the registration process.
Here is how it goes:
You'll first need to enter your email ID and set a secure password.
An email will then be sent to your provided address for verification.
Once verified, you're a registered user. You can now deposit digital assets into the DigiFinex wallet to start trading.
DigiFinex enables users to explore various trading possibilities with a complete list of trading pairs. Users can engage in both spot and leverage trading, where they can trade with up to 3x their deposits.
The Importance of KYC in DigiFinex Registration
While DigiFinex provides an easy-to-use platform, it takes its users' security seriously. One essential step in the registration process is the Know Your Customer (KYC) protocol. This process helps DigiFinex ensure that the platform is not used for unlawful activities.
During the KYC process, users will be required to provide personal information and proof of identity. DigiFinex supports this procedure to foster a safe trading environment and to comply with global anti-money laundering regulations.
Owned by DigiFinex Korea, this Singapore-headquartered exchange offers a secure platform for crypto traders across the globe. It's an exchange that offers not just a wide variety of trading options but also emphasizes user security, making it a platform that cryptocurrency enthusiasts can rely on. Whether you're a seasoned trader or just starting, DigiFinex makes the journey easier.
Features of the DigiFinex App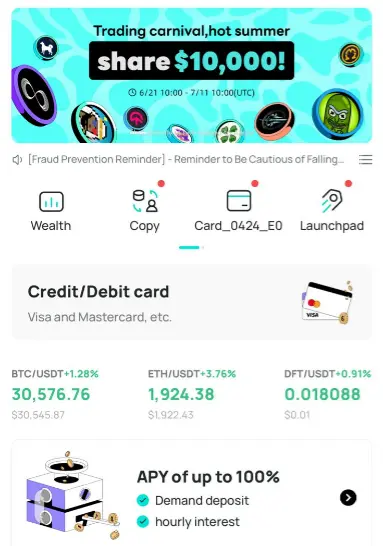 The DigiFinex App brings the complete crypto trading experience right into your hands. It's more than just a gateway to your digital assets; it's your hub for staying informed and making smart trades. The app allows you to manage your account, check prices, and trade your favorite cryptocurrencies with ease.
Upon logging in, users find themselves in a clean, easy-to-understand dashboard. From here, you can deposit cryptocurrencies into the DigiFinex wallet and start trading. The app provides a wide array of trading pairs, and users can engage in spot trading and margin trading, multiplying their potential earnings.
The app is packed with vital information and features, such as real-time charts, order history, and your account balance. With these, you can track your progress and make informed trading decisions right from the app.
DigiFinex Review 2023: Why it's a Top Crypto Exchange App
This year, DigiFinex further cemented its place as one of the top crypto exchange apps. It stands out because it's user-friendly, secure, and comprehensive. It's an app that lets beginners and pros alike manage their trades with ease.
Moreover, it is under the reputable ownership of Singapore-based DigiFinex Limited. This means users can trade with peace of mind, knowing that their digital assets are in good hands.
Whether you're just beginning your journey in crypto trading or you're an experienced trader looking for an exchange that offers a robust trading platform, DigiFinex has you covered. It simplifies the trading process while giving you all the tools you need to thrive in the world of crypto. Give it a try, and you'll quickly see why it's a top choice for many.
Understanding DigiFinex Deposit and Withdrawal System
How to Deposit Funds on DigiFinex
Kickstarting your trading journey on DigiFinex is a breeze, starting with depositing your funds. First, you must have a registered and verified account. After successfully logging in, head to the 'Funds' section, and you'll find 'Deposits.' Click on it to proceed.
You'll then see a list of available cryptocurrencies you can deposit, like Bitcoin (BTC), Ethereum (ETH), and Tether (USDT), among others. Pick the currency you prefer, and the platform will generate a wallet address for you. It's crucial to ensure that you're depositing the correct crypto into the matching wallet. Incorrect deposits could result in lost funds.
After your transfer, DigiFinex's blockchain will detect and confirm the transaction. The time it takes may vary depending on network congestion, but rest assured; your digital assets will be safely deposited into the DigiFinex wallet.
Guide to Withdrawal Process in DigiFinex
Cashing out your earnings from DigiFinex is equally straightforward. Navigate to 'Funds,' then select 'Withdrawal.' Choose the cryptocurrency you want to withdraw. You'll need to enter your external wallet address and the amount you wish to withdraw.
Before confirming, it's crucial to verify all the details. Any mistake might lead to irreversible loss of funds. Once you've checked everything, click 'Submit.' You'll need to authenticate the transaction using two-factor authentication (2FA), adding an extra layer of security to your funds. Remember, withdrawal fees apply depending on the cryptocurrency and the current network status.
DigiFinex's Unique Native Token and its Role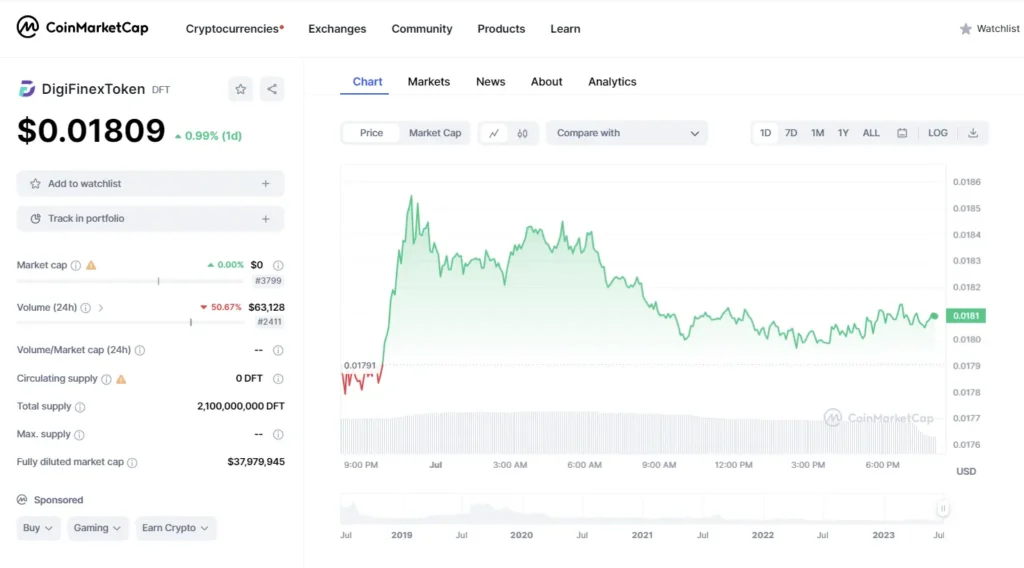 An Overview of DigiFinex's Native Token
The native token of DigiFinex, called DFT, is an integral part of the DigiFinex ecosystem. DFT is not just a token; it's a utility that enhances user experience and adds value to the platform.
Users can use DFT to pay for trading fees, enjoy discounted rates, and participate in exclusive events and services. It's also used as a medium of exchange within the platform, demonstrating DigiFinex's commitment to creating a self-sufficient and vibrant crypto community.
How DigiFinex's Native Token Enhances Crypto Trading
DFT brings a unique angle to crypto trading on DigiFinex. It provides users with exclusive benefits and discounts, making trading more cost-effective. Traders using DFT for trading fees can enjoy significant discounts, allowing for more trading volume.
Moreover, DFT holders often gain early access to new features and events. This could mean priority listing of new tokens or exclusive access to high-demand trading pairs. Holding DFT essentially puts you at the front line of what DigiFinex offers, maximizing your crypto trading journey.
In conclusion, whether you're looking at the seamless deposit and withdrawal system or the utility-packed native token, DigiFinex caters to all aspects of a trader's journey. It's no wonder that it continues to be a top choice for users from over 150 countries.
DigiFinex Trading Volume and Liquidity
DigiFinex's Trading Volume: BTC, ETH, and USDT
A key factor that defines a successful exchange is its trading volume. At DigiFinex, the trading volume is an impressive highlight. Leading the chart are three major cryptocurrencies: Bitcoin (BTC), Ethereum (ETH), and Tether (USDT).
To break it down:
Bitcoin (BTC): Bitcoin consistently holds the highest trading volume. Given its pioneer status and popularity, this is hardly surprising.
Ethereum (ETH): As the second-largest cryptocurrency, ETH is another crowd favorite. Its versatile blockchain technology attracts a vast user base.
Tether (USDT): Being a stablecoin, Tether offers a sense of security. Its trading volume is a testament to traders seeking stability amidst market volatility.
This triumvirate of cryptocurrencies, coupled with many others, contributes to a robust trading volume, cementing DigiFinex's position as a leading crypto exchange.
Importance of High Liquidity in DigiFinex
Liquidity is another crucial aspect of DigiFinex that enhances the trading experience. High liquidity means traders can buy or sell their digital assets effortlessly without causing significant price shifts. It ensures seamless, efficient transactions, even with large volumes.
Moreover, high liquidity reduces the bid-ask spread, ensuring you get the best possible prices for your trades. It also minimizes slippage, reducing potential losses during high volatility. Hence, DigiFinex's high liquidity is a significant advantage for both casual and professional traders.
Transparency of DigiFinex Fees
Understanding DigiFinex's Trading Fee Structure
Transparency is central to DigiFinex's operations, particularly when it comes to fees. The exchange follows a straightforward, tiered trading fee structure that's based on your 30-day trading volume.
Here's a quick breakdown:
For the lowest tier, if your trading volume is less than 100,000 USDT, the maker fee is 0.2%, and the taker fee is 0.2%.
As your trading volume increases, both maker and taker fees decrease. This goes up to the highest tier, where if your trading volume is over 30,000,000 USDT, the maker fee is 0.06%, and the taker fee is 0.06%.
This structure incentivizes frequent trading, making DigiFinex an ideal platform for active traders.
How DigiFinex Keeps Deposit and Withdrawal Fees Competitive
When it comes to deposit and withdrawal fees, DigiFinex maintains a competitive edge. Deposits are free, which is a boon for traders. For withdrawals, fees vary depending on the cryptocurrency but are kept minimal to encourage smooth transactions.
For instance, Bitcoin withdrawals have a nominal fee to cover the transaction costs on the blockchain. These costs are regularly updated based on the network situation, ensuring they remain fair and transparent.
In conclusion, DigiFinex shines in trading volume, liquidity, and transparent fee structure, making it a top choice among cryptocurrency exchanges. Whether you're a novice or an experienced trader, DigiFinex offers a platform designed to optimize your crypto trading experience.
Customer Support at DigiFinex
A crucial measure of any service platform in its of customer support. DigiFinex takes this seriously, ensuring that it's not just accessible but also responsive.
Accessible around the clock, DigiFinex's support team is ready to assist users through various channels:
Email: Available for detailed queries and issues requiring more comprehensive solutions.
Live Chat: Offers immediate assistance for pressing concerns.
FAQ section: Covers common questions and provides immediate answers.
These avenues are manned by a knowledgeable and responsive team, making it easier for users to resolve their queries promptly.
Is DigiFinex the Right Crypto Exchange for You?
Advantages of Choosing DigiFinex for Crypto Trading
DigiFinex brings multiple advantages to the table that can make it an excellent choice for your crypto trading needs.
These include:
Broad Range of Assets: From major cryptocurrencies to lesser-known tokens, DigiFinex offers a wide range of trading pairs.
High Liquidity: High trading volume ensures smooth transactions with minimal slippage.
User-friendly App: Their mobile app offers all the functionality of the website, providing a seamless trading experience on the go.
Security Measures: Enhanced security with two-factor authentication and a mandatory KYC process.
Competitive Fees: A transparent, tiered fee structure incentivizes trading.
The combination of these factors can make DigiFinex an appealing choice for many crypto traders, irrespective of their experience levels.
Final Thoughts on DigiFinex Review 2023
Wrapping up our DigiFinex review for 2023, it's clear that this platform offers a comprehensive, user-friendly, and secure trading environment. Its high liquidity, extensive range of digital assets, competitive fees, and excellent customer support make it a strong contender in the crypto exchange space.
Whether you're dipping your toes into crypto trading or are an experienced trader looking for a robust platform, DigiFinex deserves serious consideration. With its persistent efforts to optimize the user experience and its commitment to transparency, DigiFinex might just be the right crypto exchange for you.
How safe is DigiFinex?
DigiFinex employs advanced security measures. It includes two-factor authentication (2FA) and cold storage for digital assets, which adds an extra layer of safety.
Which country is DigiFinex from?
DigiFinex is a global cryptocurrency exchange with its headquarters in Singapore. It caters to users worldwide.
How much is DigiFinex transaction fee?
DigiFinex's trading fee structure is competitive. Fees vary depending on whether you are a maker or taker, and your trading volume. Check their site for the most up-to-date information.
How does DigiFinex work?
DigiFinex works as a platform for trading various cryptocurrencies. Users can deposit digital assets into their DigiFinex wallet and then use these assets for trading. It offers features like spot trading, margin trading, and even perpetual swaps for experienced traders.